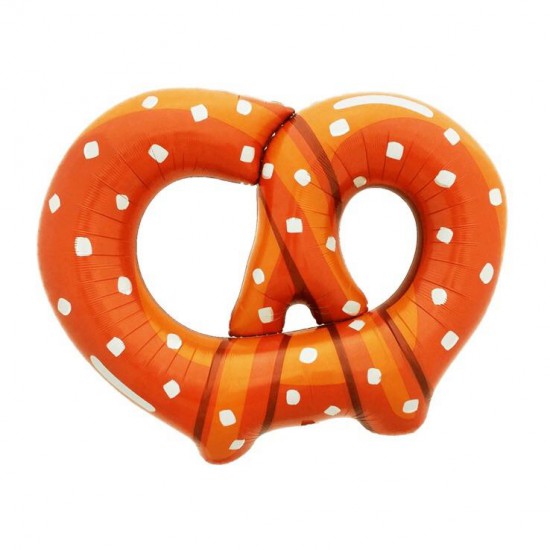 Pretzel Balloon
Stock:

In Stock

Model:

Foil Balloons

SKU:

116
Available Options
| | | |
| --- | --- | --- |
| Chrome Blue | | (+$3.75) |
| Pearl Ruby Red | | (+$3.15) |
| Pearl White | | (+$3.15) |
| Chrome Silver | | (+$3.75) |
| Pearl Azure | | (+$3.15) |
| Rose Gold | | (+$3.15) |
| Ivory Silk | | (+$3.10) |
| Pearl Light Blue | | (+$3.15) |
| Maroon | | (+$3.15) |
| Pastel Lilac | | (+$3.10) |
| Fog | | (+$3.10) |
| Blush | | (+$3.10) |
| Goldenrod | | (+$3.10) |
| Carribean Blue | | (+$3.10) |
| Silver | | (+$3.15) |
| Chrome Rose Gold | | (+$3.75) |
| Pearl Sapphire Blue | | (+$3.15) |
| Purple | | (+$2.75) |
| Robin's Egg Blue | | (+$3.10) |
| Pastel Yellow | | (+$3.10) |
| Tropical Teal | | (+$3.10) |
| Willow | | (+$3.10) |
| Lime Green | | (+$3.10) |
| Coral | | (+$3.10) |
| Pastel Blue | | (+$3.10) |
| Pearl Lavender | | (+$3.15) |
| Pearl Pink | | (+$3.15) |
| Brown | | (+$3.00) |
| Chrome Gold | | (+$3.75) |
| Wildberry | | (+$3.10) |
| Grey | | (+$3.00) |
| Gold | | (+$3.15) |
| Chrome Green | | (+$3.75) |
| Rose Pink | | (+$3.10) |
| Pearl Mint Green | | (+$3.15) |
| Chrome Purple | | (+$3.75) |
| Midnight Blue | | (+$3.15) |
| Pastel Pink | | (+$3.10) |
| Black | | (+$2.75) |
| Spring Lilac | | (+$3.10) |
| Blue | | (+$2.75) |
| Green | | (+$2.75) |
| Orange | | (+$2.75) |
| Pale Blue | | (+$3.10) |
| Pink | | (+$2.75) |
| Red | | (+$2.75) |
| White | | (+$2.75) |
| Yellow | | (+$2.75) |
| | | |
| --- | --- | --- |
| HBD Purple | | (+$3.50) |
| HBD Orange | | (+$3.50) |
| HBD Red | | (+$3.50) |
| Music Note | | (+$3.75) |
| HBD Yellow | | (+$3.50) |
| HBD Wildberry | | (+$3.50) |
| Sparkling Star SIlver | | (+$3.50) |
| Sparkling Star Black | | (+$3.50) |
| Red Sweet Prickly heart | | (+$3.50) |
| Card & Dice | | (+$3.75) |
| White & Black Zebra | | (+$3.75) |
| Tiger | | (+$3.75) |
| Big Polka Dot Pink | | (+$3.50) |
| Big Polka Dot Blue | | (+$3.50) |
| Big Polka Dot Black & Red | | (+$3.50) |
| Cow Print | | (+$3.50) |
| Cheetah | | (+$3.75) |
| Green Sweet Prickly heart | | (+$3.50) |
Whether you are having a snack party, games get together or just to make someone smile on their birthday.
This adorable pretzel balloon goes perfect by itself or you can add other balloons to it from our available latex balloons to make a bouquet.
Its 41inches big! Delivered to you helium filled ready to celebrate.