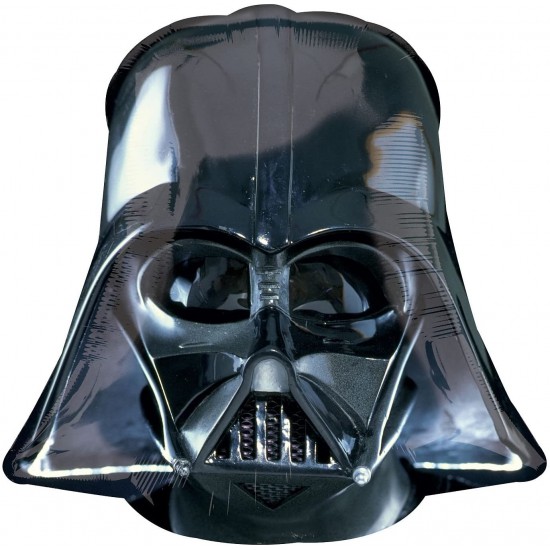 Darth Vader - Star Wars
Stock:

In Stock

Model:

Foil Balloons
Available Options
| | | |
| --- | --- | --- |
| Chrome Blue | | (+$3.75) |
| Pearl Ruby Red | | (+$3.15) |
| Pearl White | | (+$3.15) |
| Chrome Silver | | (+$3.75) |
| Pearl Azure | | (+$3.15) |
| Rose Gold | | (+$3.15) |
| Ivory Silk | | |
| Pearl Light Blue | | (+$3.15) |
| Maroon | | (+$3.10) |
| Pastel Lilac | | (+$3.10) |
| Fog | | (+$3.10) |
| Blush | | (+$3.10) |
| Goldenrod | | (+$3.10) |
| Carribean Blue | | (+$3.10) |
| Silver | | (+$3.15) |
| Chrome Rose Gold | | (+$3.75) |
| Pearl Sapphire Blue | | (+$3.15) |
| Purple | | (+$2.75) |
| Robin's Egg Blue | | (+$3.10) |
| Pastel Yellow | | (+$3.10) |
| Tropical Teal | | (+$3.10) |
| Willow | | (+$3.10) |
| Lime Green | | (+$3.10) |
| Coral | | (+$3.10) |
| Pastel Blue | | (+$3.10) |
| Pearl Lavender | | (+$3.15) |
| Pearl Pink | | (+$3.15) |
| Brown | | (+$3.00) |
| Chrome Gold | | (+$3.75) |
| Wildberry | | (+$3.10) |
| Grey | | (+$3.00) |
| Gold | | (+$3.15) |
| Chrome Green | | (+$3.75) |
| Rose Pink | | (+$3.10) |
| Pearl Mint Green | | (+$3.15) |
| Chrome Purple | | (+$3.75) |
| Midnight Blue | | (+$3.15) |
| Pastel Pink | | (+$3.10) |
| Black | | (+$2.75) |
| Spring Lilac | | (+$3.10) |
| Blue | | (+$2.75) |
| Green | | (+$2.75) |
| Orange | | (+$2.75) |
| Pale Blue | | (+$3.10) |
| Pink | | (+$2.75) |
| Red | | (+$2.75) |
| White | | (+$2.75) |
| Yellow | | (+$2.75) |
| | | |
| --- | --- | --- |
| Music Note | | (+$3.75) |
| HBD Yellow | | (+$3.50) |
| Red Sweet Prickly heart | | (+$3.50) |
| Tiger | | (+$3.75) |
| Sparkling Star SIlver | | (+$3.50) |
| Sparkling Star Black | | (+$3.50) |
| Big Polka Dot Black & Red | | (+$3.50) |
| Card & Dice | | (+$3.75) |
| White & Black Zebra | | (+$3.75) |
| HBD Orange | | (+$3.50) |
| Big Polka Dot Pink | | (+$3.50) |
| Big Polka Dot Blue | | (+$3.50) |
| Green Sweet Prickly heart | | (+$3.50) |
| Cow Print | | (+$3.75) |
| Cheetah | | (+$3.75) |
| HBD Red | | (+$3.50) |
| HBD Purple | | (+$3.50) |
| HBD Wildberry | | (+$3.50) |
For a lover of Darth Vader or Star Wars - this Balloon will make a pleasant surprise .
Its 25 inches big Mylar Balloon.
You can ask us to make a bouquet when you pick your choice colors from our options of latex balloons .
It is also great as a stand alone - single balloon.