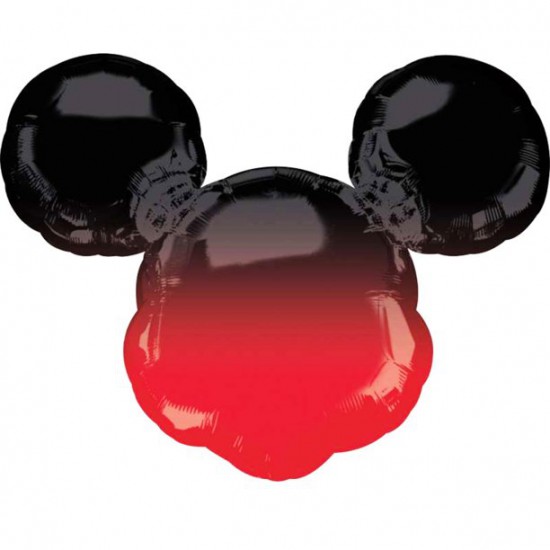 Mickey Mouse Ombre Head
Stock:

In Stock

Model:

Foil Balloons

SKU:

181
Available Options
| | | |
| --- | --- | --- |
| Chrome Rose Gold | | (+$3.75) |
| Black | | (+$2.75) |
| Spring Lilac | | (+$3.10) |
| Pearl Ruby Red | | (+$3.15) |
| Robin's Egg Blue | | (+$3.10) |
| Carribean Blue | | (+$3.10) |
| Pastel Pink | | (+$3.10) |
| Silver | | (+$3.10) |
| Tropical Teal | | (+$3.00) |
| Pearl Sapphire Blue | | (+$3.15) |
| Rose Gold | | (+$3.15) |
| Wildberry | | (+$3.00) |
| Coral | | (+$3.00) |
| Ivory Silk | | (+$3.10) |
| Pastel Blue | | (+$3.10) |
| Pearl White | | (+$3.15) |
| Rose Pink | | (+$3.10) |
| Chrome Gold | | (+$3.75) |
| Fog | | (+$3.10) |
| Lime Green | | (+$3.00) |
| Pastel Lilac | | (+$3.10) |
| Chrome Silver | | (+$3.75) |
| Midnight Blue | | (+$3.15) |
| Chrome Green | | (+$3.75) |
| Gold | | (+$3.15) |
| Maroon | | (+$3.00) |
| Willow | | (+$3.10) |
| Purple | | (+$2.75) |
| Blush | | (+$3.00) |
| Chrome Purple | | (+$3.75) |
| Goldenrod | | (+$3.10) |
| Chrome Blue | | (+$3.75) |
| Grey | | (+$3.00) |
| Brown | | (+$3.00) |
| Blue | | (+$2.75) |
| Green | | (+$3.00) |
| Orange | | (+$2.75) |
| Pale Blue | | (+$3.10) |
| Pink | | (+$2.75) |
| Red | | (+$2.75) |
| White | | (+$2.75) |
| Yellow | | (+$2.75) |
This 27inch Ombre Mickey Shaped Head is just perfect - for a Disney themed birthday of as part of a fun balloon arrangement.
It great alone - with some polka dot balloons or even plain balloons .
We can make it into a bouquet if you pick your colors from the options available, add a number to it or any other balloons from our super shape balloons.