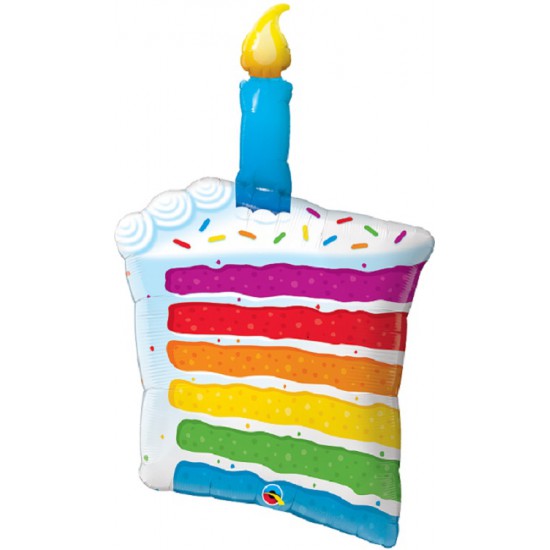 Cake Slice & Candle -Birthday Cake
Stock:

In Stock

Model:

Foil Balloons

SKU:

116
Available Options
| | | |
| --- | --- | --- |
| Purple | | (+$2.75) |
| Chrome Gold | | (+$3.75) |
| Lime Green | | |
| Spring Lilac | | (+$3.10) |
| Goldenrod | | (+$3.10) |
| Silver | | (+$3.15) |
| Midnight Blue | | (+$3.15) |
| Wildberry | | (+$3.00) |
| Pearl White | | (+$3.15) |
| Pastel Lilac | | (+$3.10) |
| Rose Pink | | (+$3.00) |
| Grey | | (+$3.00) |
| Willow | | (+$3.10) |
| Pearl Mint Green | | (+$3.15) |
| Chrome Rose Gold | | (+$3.75) |
| Pearl Ruby Red | | (+$3.15) |
| Blush | | |
| Pearl Azure | | (+$3.15) |
| Pastel Yellow | | (+$3.10) |
| Pearl Light Blue | | (+$3.15) |
| Coral | | (+$3.10) |
| Pastel Blue | | (+$3.10) |
| Tropical Teal | | (+$3.10) |
| Chrome Silver | | (+$3.75) |
| Pastel Pink | | (+$3.10) |
| Rose Gold | | (+$3.15) |
| Pearl Lavender | | (+$3.15) |
| Pearl Sapphire Blue | | (+$3.15) |
| Chrome Green | | (+$3.75) |
| Maroon | | |
| Fog | | (+$3.10) |
| Pearl Pink | | (+$3.15) |
| Carribean Blue | | |
| Brown | | |
| Robin's Egg Blue | | (+$3.10) |
| Ivory Silk | | (+$3.00) |
| Chrome Blue | | (+$3.75) |
| Chrome Purple | | (+$3.75) |
| Black | | |
| Blue | | |
| Green | | (+$275.00) |
| Orange | | (+$2.75) |
| Pale Blue | | (+$3.10) |
| Pink | | (+$2.75) |
| Red | | (+$2.75) |
| White | | (+$2.75) |
| Yellow | | (+$2.75) |
How sweet to have a balloon cake for a birthday !
This outstanding 42inch rainbow cake slice balloon is delivered helium filled and makes the birthday/party more sweet.
You can have this all as a stand alone or complimented by birthday numbers or some latex balloons to make a bouquet.
What about customizing it with the celebrant's name to even make it more special.
However you like this .....it will make a very Happy Birthday .