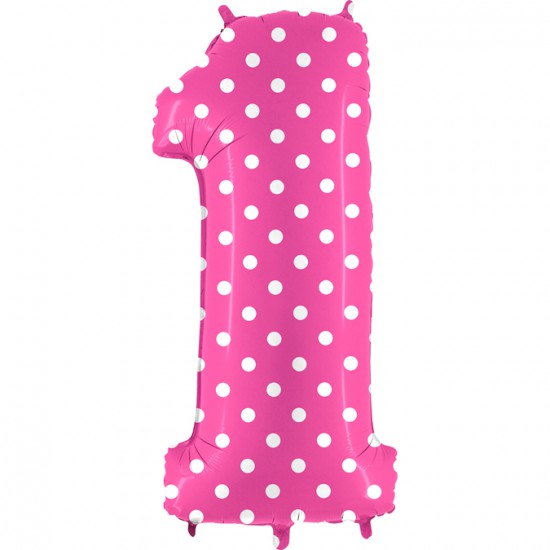 Super Size - Pink Polka Dot Number Balloon
Stock:

In Stock

Model:

Foil Balloons
Available Options
| | | |
| --- | --- | --- |
| Chrome Silver | | (+$3.75) |
| Goldenrod | | (+$3.10) |
| Fog | | (+$3.10) |
| Purple | | (+$2.75) |
| Tropical Teal | | (+$2.75) |
| Wildberry | | (+$3.00) |
| Coral | | (+$3.10) |
| Pearl Sapphire Blue | | (+$3.15) |
| Chrome Gold | | (+$3.75) |
| Rose Pink | | (+$3.10) |
| Grey | | (+$3.00) |
| Pastel Lilac | | (+$3.10) |
| Lime Green | | (+$3.10) |
| Pastel Blue | | (+$3.10) |
| Pearl Lavender | | (+$3.15) |
| Spring Lilac | | (+$3.10) |
| Robin's Egg Blue | | (+$3.10) |
| Chrome Blue | | (+$3.75) |
| Maroon | | (+$3.10) |
| Blush | | (+$3.10) |
| Pearl Pink | | (+$3.15) |
| Black | | (+$2.75) |
| Pastel Yellow | | (+$3.10) |
| Pearl Azure | | (+$3.15) |
| Ivory Silk | | (+$3.10) |
| Chrome Purple | | (+$3.75) |
| Silver | | (+$3.15) |
| Midnight Blue | | (+$3.15) |
| Pearl Light Blue | | (+$3.15) |
| Willow | | (+$3.10) |
| Rose Gold | | (+$3.15) |
| Gold | | (+$3.10) |
| Chrome Green | | (+$3.75) |
| Brown | | (+$3.00) |
| Pearl Ruby Red | | (+$3.15) |
| Carribean Blue | | (+$3.00) |
| Chrome Rose Gold | | (+$3.75) |
| Blue | | (+$2.75) |
| Green | | (+$2.75) |
| Orange | | (+$2.75) |
| Pale Blue | | (+$3.10) |
| Pink | | (+$2.75) |
| Red | | (+$2.75) |
| White | | (+$2.75) |
| Yellow | | (+$2.75) |
If you are looking to say it big with a number for a birthday ,an anniversary or any other celebration. This 40inch Polka Dot Supersized Balloon is just perfect.
You can add this to any of our bouquet balloons in your desired colors or match this from our color selection of latex , hearts or star balloons..
These are Helium Filled tied to Ribbons and ready to celebrate.
You can never go wrong with this either for a party at home or in a venue. It is also just the perfect arrangement to surprise someone.
Available in your desired numbers to choose from. Numbers 1 -99