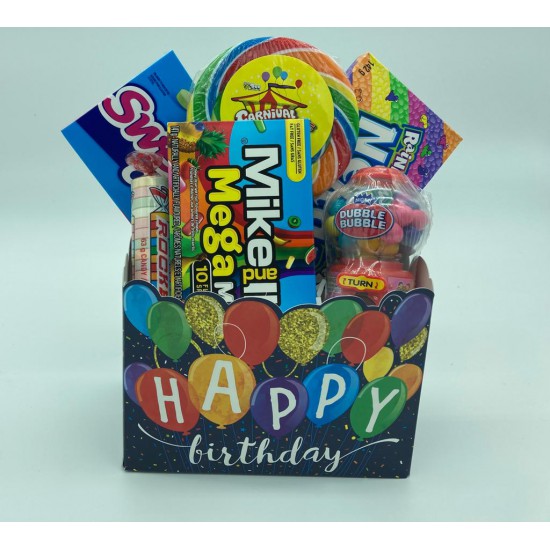 Colourful Mix Candy Box
Stock:

In Stock

Model:

Basket
Available Options
| | | |
| --- | --- | --- |
| Carribean Blue | | (+$3.10) |
| Chrome Gold | | (+$3.75) |
| Pearl Mint Green | | (+$3.15) |
| Black | | (+$2.75) |
| Chrome Purple | | (+$3.75) |
| Robin's Egg Blue | | (+$3.10) |
| Rose Pink | | (+$3.10) |
| Tropical Teal | | (+$3.10) |
| Chrome Green | | (+$3.75) |
| Pearl Azure | | (+$3.15) |
| Gold | | (+$3.15) |
| Pearl Pink | | (+$3.15) |
| Chrome Blue | | (+$3.75) |
| Coral | | (+$3.10) |
| Grey | | (+$3.00) |
| Pastel Yellow | | (+$3.10) |
| Silver | | (+$3.15) |
| Pearl Lavender | | (+$3.15) |
| Brown | | (+$3.00) |
| Pastel Lilac | | (+$3.10) |
| Chrome Silver | | (+$3.75) |
| Rose Gold | | (+$3.15) |
| Pastel Blue | | (+$3.10) |
| Blue | | (+$2.75) |
| Green | | (+$2.75) |
| Orange | | (+$2.75) |
| Red | | (+$2.75) |
| White | | (+$2.75) |
| Yellow | | (+$2.75) |
Just perfect as a gift for every reason, season or occasion, either for a kid, teenager , young adult or adult, you can never go wrong with a box of sweet candy.
* Feel free to mention if its not for birthday - will use box without message. - will include items as seen .
* We can use this as balloon weight for any of our balloon bouquets you buy or even if you choose to create your own bouquet.

Includes:
Mike & Ike
Rockets
XL Lolly Pop
Nerds
Sweet Tart
Double Bubble Gum in Dispenser