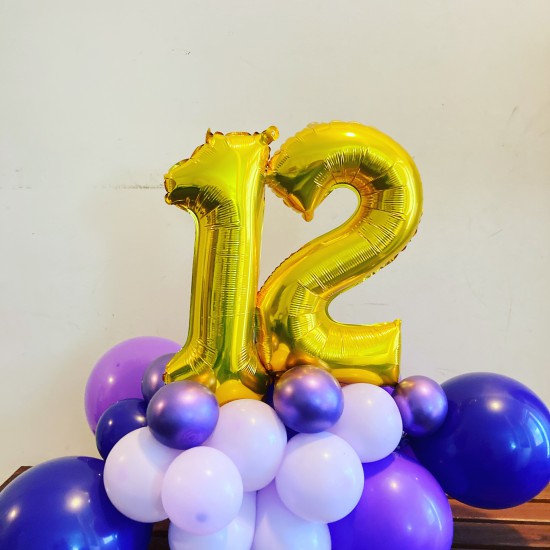 Table Top Number -Organic Base Style
Stock:

In Stock

Model:

Foil Balloons
Available Options
| | | |
| --- | --- | --- |
| Grey | | |
| Maroon | | |
| Pastel Lilac | | |
| Pastel Yellow | | |
| Brown | | |
| Pearl Pink | | |
| Pearl Lavender | | |
| Silver | | |
| Ivory Silk | | |
| Robin's Egg Blue | | |
| Fog | | |
| Goldenrod | | |
| Purple | | |
| Pearl Sapphire Blue | | |
| Willow | | |
| Midnight Blue | | |
| Blush | | |
| Coral | | |
| Pearl Light Blue | | |
| Carribean Blue | | |
| Pearl Mint Green | | |
| Tropical Teal | | |
| Rose Gold | | |
| Pearl Ruby Red | | |
| Wildberry | | |
| Black | | |
| Gold | | |
| Pearl Azure | | |
| Pastel Blue | | |
| Lime Green | | |
| Goldenrod | | |
| Spring Lilac | | |
| Pearl White | | |
| Blue | | |
| Orange | | |
| Pale Blue | | |
| Pink | | |
| Red | | |
| White | | |
| Yellow | | |
Either for a single digit birthday , a double or triple digit birthday or even an anniversary this multi base style is lovely.
Great for small spaces, for centerpieces or table top balloon decorations. The number balloons are 16inches big.
They are long lasting and simply gorgeous.
Due to the organic style of the base and cause each is put together by hand - the base style might be different in size and cohesiveness each time they are made
Number colors can be picked and colors on the base can be chosen as well from our latex options.