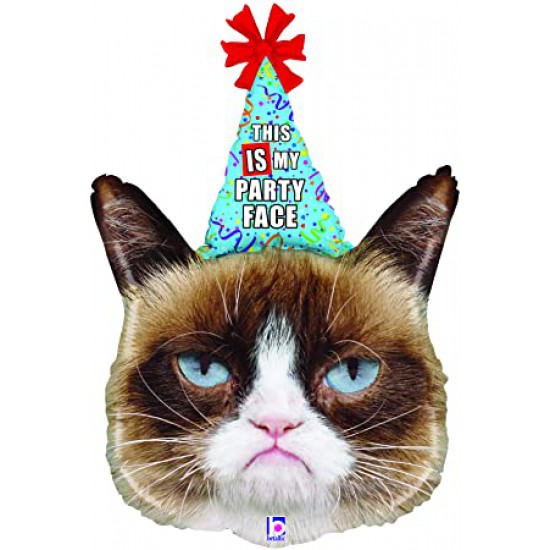 Grumpy Birthday Face
Stock:

In Stock

Model:

Foil Balloons
Available Options
| | | |
| --- | --- | --- |
| Music Note | | (+$3.75) |
| White & Black Zebra | | (+$3.75) |
| HBD Orange | | (+$3.50) |
| HBD Yellow | | |
| Tiger | | (+$3.75) |
| Big Polka Dot Blue | | (+$3.50) |
| Sparkling Star SIlver | | (+$3.50) |
| Big Polka Dot Pink | | (+$3.50) |
| Green Sweet Prickly heart | | (+$3.50) |
| Card & Dice | | (+$3.75) |
| Cow Print | | (+$3.75) |
| HBD Wildberry | | (+$3.50) |
| Cheetah | | (+$3.75) |
| HBD Red | | (+$3.50) |
| Sparkling Star Black | | (+$3.50) |
| HBD Purple | | (+$3.50) |
| Red Sweet Prickly heart | | (+$3.50) |
| Big Polka Dot Black & Red | | (+$3.50) |
| | | |
| --- | --- | --- |
| Robin's Egg Blue | | (+$3.10) |
| Chrome Silver | | (+$3.75) |
| Goldenrod | | (+$3.10) |
| Pearl Ruby Red | | (+$3.15) |
| Rose Gold | | (+$3.15) |
| Coral | | (+$3.10) |
| Blush | | (+$3.10) |
| Pastel Yellow | | (+$3.10) |
| Pearl Light Blue | | (+$3.15) |
| Fog | | (+$3.10) |
| Brown | | (+$3.00) |
| Pearl Azure | | (+$3.15) |
| Maroon | | (+$3.10) |
| Silver | | (+$3.15) |
| Carribean Blue | | (+$3.10) |
| Chrome Rose Gold | | (+$3.75) |
| Pearl Lavender | | (+$3.15) |
| Midnight Blue | | (+$3.15) |
| Spring Lilac | | (+$3.10) |
| Pearl White | | (+$3.15) |
| Chrome Blue | | (+$3.75) |
| Purple | | (+$2.75) |
| Pastel Pink | | (+$3.10) |
| Tropical Teal | | (+$3.10) |
| Grey | | (+$3.00) |
| Chrome Green | | (+$3.75) |
| Pearl Mint Green | | (+$3.15) |
| Lime Green | | (+$3.10) |
| Black | | (+$2.75) |
| Rose Pink | | (+$3.10) |
| Chrome Purple | | (+$3.75) |
| Pearl Pink | | (+$3.15) |
| Pastel Blue | | (+$3.10) |
| Wildberry | | (+$3.10) |
| Pearl Sapphire Blue | | (+$3.15) |
| Ivory Silk | | (+$3.10) |
| Pastel Lilac | | (+$3.10) |
| Willow | | (+$3.10) |
| Blue | | (+$2.75) |
| Green | | (+$2.75) |
| Orange | | (+$2.75) |
| Pale Blue | | (+$3.10) |
| Pink | | (+$2.75) |
| Red | | (+$2.75) |
| White | | (+$2.75) |
| Yellow | | (+$2.75) |
Its a grumpy face -funny balloon for a happy birthday!
Supersize 36inches Mylar Balloon can be used to make a happy bouquet when you pick from our available latex balloons or can be ordered just alone.
All our balloons arrive to you helium filled ready to celebrate. Our latex balloons are treated for extra life.